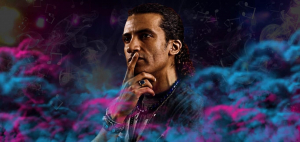 Not many DJs in the Netherlands are brave enough to challenge Gizmo for a turntable battle live on stage. He is seen by many colleagues in the scene as a technical master. There is one 'old friend' that dares to take the challenge for a one-time-only scratch battle:
DJ All-Star Fresh.
Blokes Events proudly announces DJ All-Star Fresh (Guan Elmzoon) live on stage as the next 'friend' of DJ Gizmo. After a 45 minutes old-school set he will show the crowd that there is only one Grandmaster behind the turntables. For those who do not remember, it was he who founded the famous pop formation, King Bee, in the late eighties.
DJ All-Star Fresh and Gizmo go way back. They know each other since the mid-eighties when they both hung around on the streets with skateboards in their hands. Breakbeat, rap, and hip-hop were all in the mix. They performed together in the legendary radio show of Robin Albers (DJ Jaydee) and supported each other in the most exclusive venues all over the world.
DJ All-Star Fresh performed at the top of the international rap and hip-hop scene. He is connected to great American performers like Public Enemy, Ice-T, and Setsasonic just to name a few.
Do not miss this unique performance at the special launch edition of GIZMO & FRIENDS on Easter Sunday 17th of April at the PIP in The Hague.
Together with DJ Rob & MC Joe, Buzz Fuzz, Gizmo, All-Star Fresh will blow your mind away.
More big names from the hardcore scene will be announced in the coming days. Keep coming back to this website for more info.
Please be aware that this will be an exclusive event with limited tickets available.
Secure your ticket for the launch of 'the party of the year' here.
Keep visiting this site for the latest information and visit the DJ Gizmo Fan group on Facebook regularly.
https://djgizmoandfriends.com/wp-content/uploads/2022/02/All-Star-Fresh2.jpg
648
648
Arthur Blok
https://djgizmoandfriends.com/wp-content/uploads/2022/01/GIZMOlogo2.png
Arthur Blok
2022-02-23 16:45:49
2022-07-10 23:04:26
Line-up announcement: DJ All Star Fresh